We manufacture and supply
Wine Bags
Alcoholic Drink Shopping Bag
Retail Store Liquor Tote Sac
Booze Purchase Handbag
Whiskey Buying Totes Bags
Wine Sales Canvas Sack
Reusable Liquor Jute Sacks
Wine Carrier Canvas Bag
Boose Marketing Paper Bags
2 Bottle Wine Takeout Bag
Whiskey Shopping Bags
Single Wine Carrying Bag
Grog Purchase Haversack
Creative Wine Shop Bag
Hooch Sell Paper Handbags
Potation Buy Rucksack
Booze Selling Knapsack
4 Bottles Wine Bags
Wine Take Out Gift Bag
Whiskey Take Away Sacs
Alcoholic Beverage Fabric Bag
Shopper Alcohol Satchel Sac
Boose Purchasing Handbag
Potation Takeaway Shop Bag
Retail Wine Shop Cloth Totes
Wine Buyer Textile Bags
Booze Sale Personalized Tote
6 Bottle Wine Transport Bags
Customized Wine Shop Bag
Wine Marketing Cotton Sacks
Wine Bags can be made from Paper, Fabric, Jute Fabric and Canvas in several design, size and color. Commonly it is used as alcoholic beverage shopping bag. Whiskey bags are used by shoppers to carry their Booze Hooch Drink. Khatian Print manufactures Wine Bags and it is a Shopping Bag manufacturer supplier exporter Company.

Wine Bags can be printed with the name of Business, Shop, Store or Brands. It is also used for Brand marketing, promotion and publicity too. Natural jute Wine Bag is a Green Eco friendly trend to save Environment.

We

sell, supply and export Wine Bags from Dhaka Bangladesh BD.
Pack Offers
Wine Bag
SL No.
D e s c r i p t i o n
Quantity
Price (tk)
WB101
Wine Bag

. Portrait/Landscape


Size : N/A


Paper

/ Jute Fabric / Cloth / Canvas
Print :

Limited Colors




@ n/a - n/a - n/a

3000 Pcs
5000 Pcs
10,000 Pcs

N/A


call for price

N/A


call for price

N/A


call for price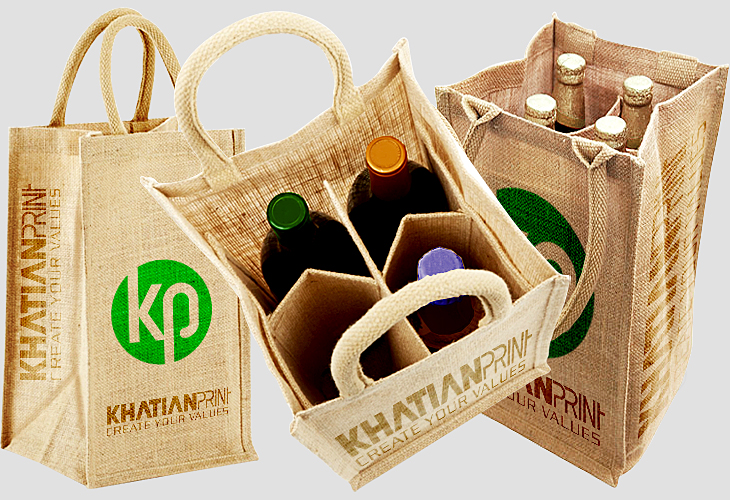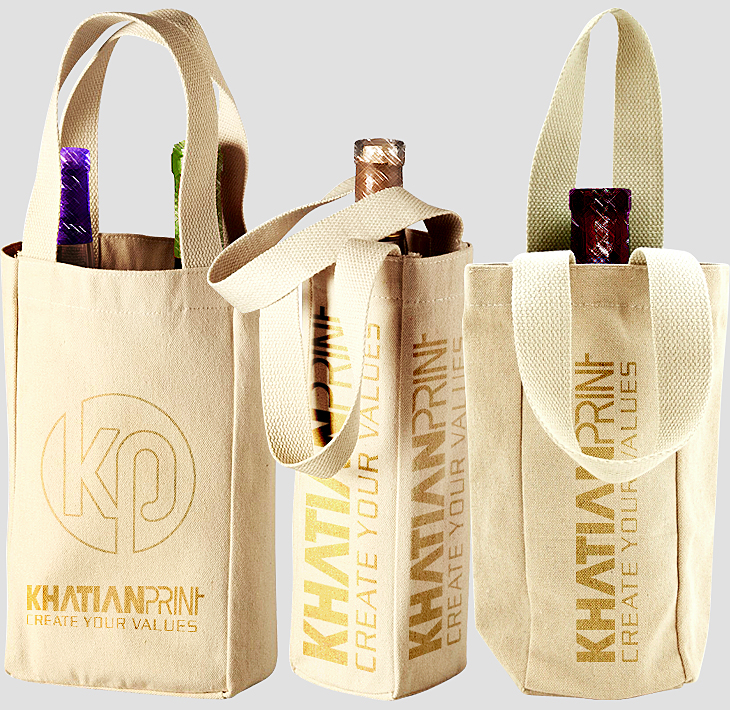 Contact


order now | Contact
Conditions Applicable