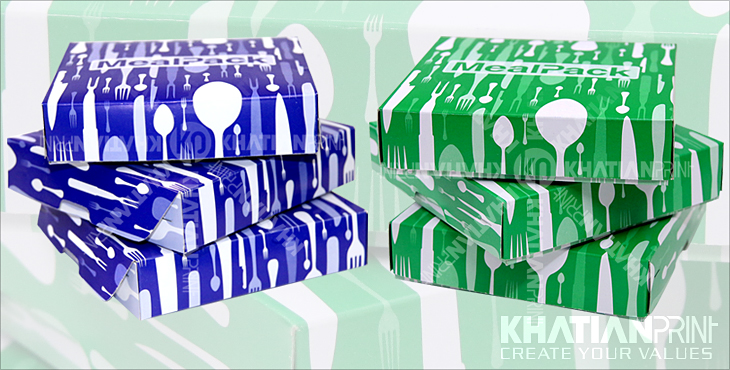 Small MealPack
Small MealPacks / Small Food Boxes List
Customize Small MealPacks
Tiffin Food Container
Takeaway Tiny Meal Pack
Craft Paper Food Boxes
Papers Food Boxes
Breakfast Take away Box
Kraft board Little Snacks Packs
Paperboard small food Boxes
Cardboard Homemade Food Packets
Two Part Short food Box
Custom Fast Food Box
One Part Joint food Boxes
Small MealPacks are used to supply ready food to be taken anywhere away and faraway places for disturbance free movement to avoid cookery problem. Usually this type of small boxes are used by fast food shops, street food market, cafés, coffee bar, coffee shop, snack bar, food preparation company, cooking service provider, food supplies and food serving enterprise to serve readymade foods for their customer. It is used for occasional events, celebrations, picnics and parties for prepared food serving as well. Khatian Print is a Small Meal Packs manufacturer printing factory supplier company.

Small MealPacks are useful for Social program, Reunion party, Get-together events, Community function, Public celebration, Cultural activities, Picnics and Parties to serve Breakfast, Snacks, Tiffin and Fast foods.

We

provide Small MealPacks from Dhaka Bangladesh BD.
Pack Offers
Small MealsPacks
SL No.
D e s c r i p t i o n
Quantity
Price (BDT)
MPS101
Small MealsPacks | SinglePart
Size : 5"x1.25"
Paper : Paper Board with Laminated Foil inside
Print :

One color

3000 Pcs
5000 Pcs
10,000 Pcs

N/A


call for price

N/A


call for price

N/A


call for price

MPS102
Small MealsPacks | DoublePart
Size : 5"x1.25"
Paper : Paper Board with Laminated Foil inside
Print :

One color

3000 Pcs
5000 Pcs
10,000 Pcs

N/A


call for price

N/A


call for price

N/A


call for price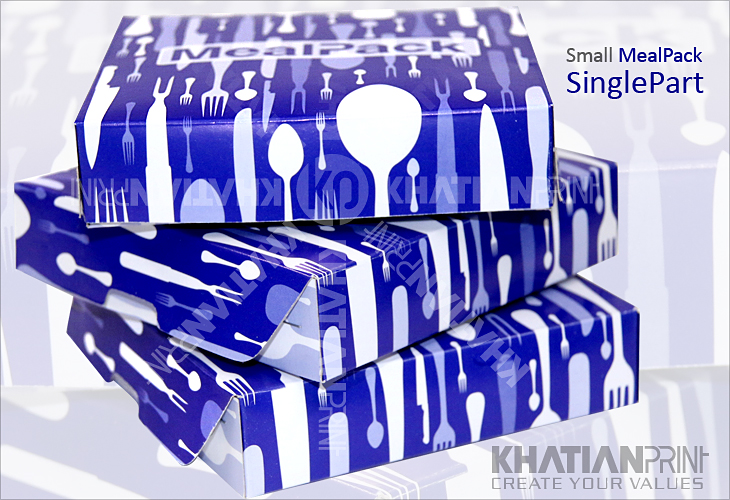 Single Part Small MealPack Food Box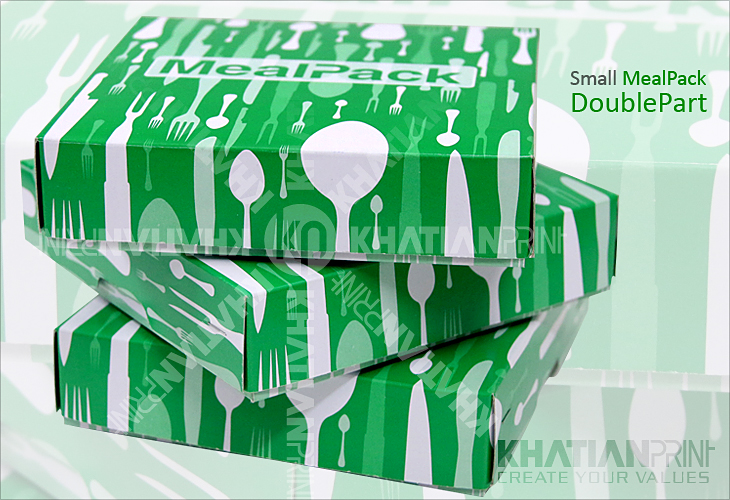 Double Part Small MealPack Food Box
Contact


order now | Contact
Conditions Applicable